Ad blocker interference detected!
Wikia is a free-to-use site that makes money from advertising. We have a modified experience for viewers using ad blockers

Wikia is not accessible if you've made further modifications. Remove the custom ad blocker rule(s) and the page will load as expected.
Bartolo "Buddy" Valastro
(born March 3, 1977) is the head baker at Carlo's Bake Shop. His top bakers are Frankie Amato Jr (second cousin), Joey Faugno (brother-in-law), Danny Dragone, and Mauro Castano (brother-in-law). He has 4 children, Sofia, Bartolo Jr, Marco, and the most recent Carlo Salvatore (born Feb.14 2011).He has a wife named Lisa (short for Elisabetta) and his older sisters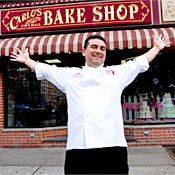 are: Grace, Maddeline, Mary and Lisa. He is also the star of the show Cake Boss, and he has worked at Carlo's Bake Shop since the age of he was a teenager. He is the only son and the youngest child of Bartolo "Buddy" Sr. and Mary Valastro (nee Pinto).He is the boss of Carlo's Bake Shop. After his father died when he was seventeen, Buddy had to drop out of school to take over the family business.